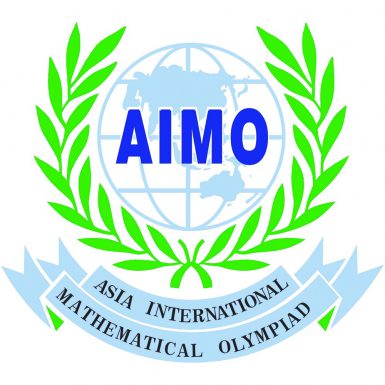 AIMO Open Finals 2019
AIMO Trials 2019 India Award (Gold, Silver and Bronze award ONLY) winners are welcome to register and participate in the Global finals. In the Global Finals, compete the best of International students, explore Taiwan and make new friends from other parts of the world.
This Year AIMO Union is also introducing WMGO (World Mathematics Games Open) which will be offered to AIMO Open Finals participants as an additional fun learning event at no additional cost.  See WMGO Invite.
Dates:  From 4thAugust (Sunday) to 8th August (Thursday), 2019. You should reach Taipei by 4th August evening.
AIMO Finals and WGMO on 5thAug and award ceremony on 7th
Location:  Taipei City, Taiwan.
Eligibility for registrations:  Gold, Silver or Bronze Award in AIMO Trials 2019. Please check the eligible list before proceeding to register.  Please note without registering for it by making the required payment you would not be allowed to participate.
For Grades 3 to 12. Differentiated papers P3 to P6 (Grade 3 to 6), S1 to S3 (Grade 7 to 9) and SS (Grade 10-12).  The grades/levels will be same as AIMO Trials.
Last Date of Registrations (with Payments):  23rd June, 2019 (Sunday) and all registrations for AIMO Open Finals 2019 will be through us online.
Registered Students will be supported by some past papers for practice and will be given some guidance on resources to prepare from by us. For format, sample qs, awards etc. please go back to AIMO Page at our website.
Registrations will be done online from our website (link below) by making a payment for no. of people as per the options available.
There are two options for registrations:
Tour Packages:Includes competition fees (students only), entry to the award ceremony with Gala lunch/dinner, competition souvenirs (students only), twin sharing accommodation in 4 star hotel, major meals (breakfast, lunch and dinner starting from 2ndday) , airport transfers (as per defined timings on 4th August to be announced later), transfers from contest & award ceremony venues, sightseeing (including entrance fees for attractions & group tour guide) and travel insurance.  This does not include airfare, visa costs and any other personal expenses.
Free & Easy:  

Includes competition fees (Students only), competition souvenirs (students only) and entry to the award ceremony with Gala lunch/dinner ONLY.  Competing students and guests have to manage their accommodation, meals, airport transfers, all local travel in Taiwan (even for the competition and award giving ceremony) and sightseeing on their own.
In both Cases, the base package (Minimum package) will be for 1 competitor (Student) however it is strongly that parents or a group leader travels to chaperone the student and takes a similar Guest package. Please note parents/guests who have not taken any of the two packages won't be allowed at the award giving ceremony also.
Please note that you have to arrange your flight tickets, passport, visa and travel insurance on your own.
1. Tour Package (arrangements by AIMO at Taiwan):
| | |
| --- | --- |
| A. Tour Package 1 (Family):  1 Student + 1 Parent/guardian/teacher | INR 92000 |
| Per Additional Student (Extra Bed) | INR 50000 |
| Per Additional Student (No Extra Bed) | INR 44000 |
| Per Additional Guest (Extra Bed) | INR 42000 |
| Per Additional Guest (No Extra Bed) | INR 36000 |
No Extra Bed means that the person will have to share the bed of one of the base package people.  No extra bed will be provided. Eg. Both parents are travelling and the child can sleep with one of the parents in a twin sharing room then they can take the base package for the twin room and an additional guest package without bed.  Rest all Tour package inclusions will apply otherwise for all additional guests, with or without extra bed.
If two additional Extra bed (Student and/or Guest) is added to the base package, an additional room will be provided.
Please understand your requirement and see how you can minimize the costs by wisely selecting the appropriate package of bed or without bed.
| | |
| --- | --- |
| B. Tour Package 2:  Student(s) Only (per student) | INR 50000 |
This package should be taken only when parents are not travelling for grown up kids (ideally for senior secondary kids or at least 12 years plus kids) only who can manage on their own in the hotel.
Please note that parents should accompany students to Taiwan as it not advisable to send children alone especially younger children below senior secondary level.  The senior secondary level students may travel with a group which has a parent/guardian/teacher to chaperone them and the same is given to us in writing with details of the student(s) and the chaperoning adult.
2. Free & Easy Package (Your own arrangement):
| | |
| --- | --- |
| Per Student | INR 25000 |
| Per Guest | INR 15000 |
You can combine different types packages for the student and parents however keep in mind child's safety and wellbeing first. For example, you can combine a student only for Tour and free and easy package for a parent or both parents.
Parents are welcome to co-ordinate among each other and create groups of students where some of the parents can chaperone other children also and place a consolidated registration order at our website if possible.
Please click here on Tour Package itinerary for more details on the itinerary and schedule.
If you have any queries or want suggestions/advice on the packages, feel free to contact us at +91-9833916024.  
After placing the registration order, kindly share the student (Competitor) & Guest details in the given format given here for download.  Please email the filled details after registrations at info@globalolympiadsacademy.com in reply to the order confirmation email.
More details on travel information and FAQs will follow after registrations end date.