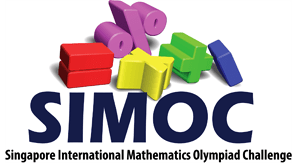 Why SIMOC?
Singapore International Math Olympiad Challenge (SIMOC) is a unique concept of mathematics competition which not only tests your ability to solve mathematical problems on pen and paper but also tests your ability to work as a team to play interactive mathematical games and solve puzzles. SIMOC gives you an opportunity to compete with top mathematical talents from around the world and learn from each other as a team. Individual and team recognition awards are up for grabs.
SIMOC consists of three categories: 1 individual written Math Olympiad Contest for grades 2 to 10 (Primary 2 to Secondary 4) and two team based challenges – Maths Warriors Competition and Mind Sports Challenge.
Singapore International Math Olympiad Challenge (SIMOC) is the brainchild of Singapore International Maths Contests Centre.  After organizing Singapore and Asian Schools Math Olympiad (SASMO) for a decade and attending various international math contests, along with the experience of running Maths Warriors and Mind Sports contests in Singapore for more than 16 years, SIMCC decided to incorporate these into a new international contest that would let students experience the thrill of math games along with the challenge of solving puzzles.
The first SIMOC was held in Singapore on August 12, 2015.  Thirteen countries attended along with 414 participants and over 350 parents and teachers.
Encourage creative thinking and build their problem solving skills.
Develop their ability to enjoy mathematics and apply them in real life
Promote a culture of mutual understanding and learning from each other
Boost their confidence in comprehending and solving complex problems.
For Grades
 : 2 to 11
Eligibility : SASMO 2019 Gold, silver, bronze medal winners can only apply.

Limited seats and first come first serve basis.
Contest Dates : November 2020

Where: Singapore
Registrations : Open Now.  Hurry. Limited Seats.  

Registrations Last Date:  Registrations will Open in July / August for eligible candidates.

Global Olympiads academy invites students and schools from India only to register.
SIMOC consists of three categories:
Math Olympiad Contest for grades 2 to 11 (Primary 2 to Secondary 4)
Maths Warriors Competition (team based)
Mind Sports Challenge (team based)
Math Olympiad Contest is an individual written test. The contest consists of 9 differentiated levels: Grade 2 to 10 (Primary 2 to Secondary 4). 
The duration of the contest is 90 minutes and every paper consists of 25 questions
Section A – 15 Multiple Choice Questions
(2 points for correct answer, 0 points for unanswered question, penalty point (deduct 1 point) for wrong answer)
Section B – 10 Open-ended Questions
(4 points for correct answer, No penalty point for wrong answer)
Awards
Perfect Score Award
Gold Award
Silver Award
Bronze Award

What is Maths Warriors?
Math Warriors is a game that tests student's ability to do mental sums as well as strategic thinking. There is also an element of luck involved which makes the game even more exciting.
History
It was designed in 2002 by Henry Ong, the Founder of SASMO to help students weak in math to develop faster mental sums skills and master the Times Table.  It is used by many Singapore Primary schools to improve mental math processing, strategy and thinking skills. The first National Primary Schools Maths Warriors' Challenge started in 2004 and was hosted by Nan Hua Secondary School. It was introduced as an event in the inaugural Singapore International Math Olympiad Challenge last year and was very received.
How to play Math Warrior?
Maths Warriors Rules (click link)
Video Tutorial:
Forming Teams
At SIMOC 2016, the students will be grouped into a team of 3 and placed into their division by SIMOC organisers.
Each team will be comprised of a member from a different country and as much as possible a different grade within the same division.
Each student will join 2 partners from different grades and countries to compete in one of 3 divisions:
Lower Division(Grade 2 to 4),
Middle Division (Grade 5 to 7)
Upper Division(Grade 8 to 10)
 Awards
Gold Team Award (1 team awarded)
Silver Team Award  (3 teams awarded)
Bronze Award (4 teams awarded)
Honourable Mention (8 teams award)
What is Mind Sports Challenge?
This is a one hour activity where each team (same team as Maths Warriors), will be given 10 IQ logic questions in a booklet and 4 hands on puzzles to solve.
Awards
Gold Team Award (1 team awarded)
Silver Team Award  (3 teams awarded)
Bronze Award (4 teams awarded)
Honourable Mention (8 teams award)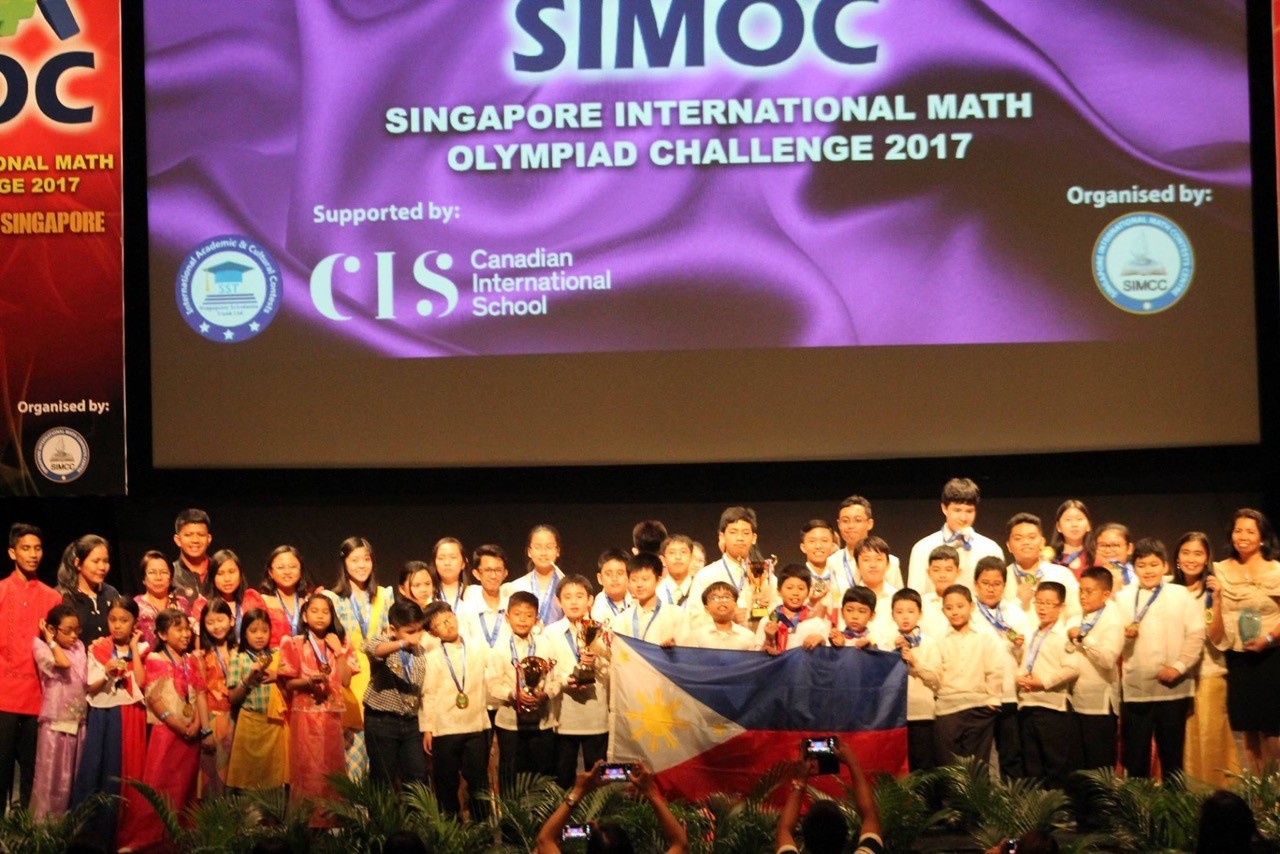 Math Olympiad Contest
Perfect Score Award
Gold Award
Silver Award
Bronze Award
Maths Warriors Competition
Gold Team Award (1 team awarded)
Silver Team Award  (3 teams awarded)
Bronze Award (4 teams awarded)
Honourable Mention (8 teams award)
Mind Sports Challenge
Gold Team Award (1 team awarded)
Silver Team Award  (3 teams awarded)
Bronze Award (4 teams awarded)
Honourable Mention (8 teams award)
Grade 2-4 (Primary 2-4)
Arithmetic and Statistics
Geometry and Mensuration
Solving word problems using model method (or any other non-algebraic methods)
Non-routine problem solving (including number patterns, divisibility tests, spatial visualisation, logic problems and simple cryptarithms)
Grade 5-6 (Primary 5-6)
Arithmetic and Statistics
Geometry and Mensuration
Solving word problems using model method (or any other methods including algebra)
Non-routine problem solving (including number patterns, divisibility tests, spatial visualisation, logic problems and cryptarithms)
Grade 7 (Secondary 1)
Arithmetic and Algebra
Geometry, Graphs and Mensuration
Statistics
Non-routine problem solving (including number patterns, divisibility tests, spatial visualisation, logic problems and cryptarithms)
Grade 8 (Secondary 2)
Arithmetic and Algebra
Geometry, Graphs and Mensuration
Pythagoras' Theorem
Statistics
Non-routine problem solving (including number patterns, divisibility tests, spatial visualisation, logic problems and cryptarithms)
Grade 9-10/11 (Secondary 3-4)
Arithmetic and Algebra

Geometry, Graphs and Mensuration
Pythagoras' Theorem and Trigonometry
Statistics and Probability
Non-routine problem solving (including number patterns, divisibility tests, spatial visualisation, logic problems and cryptarithms)
About SIMCC
Singapore International Math Contests Centre (SIMCC) is one of the largest math contests organizers in Singapore and Asia. We are committed to popularizing mathematics education through thinking games and competitions, and allowing students to interact,
cooperate and build lasting bonds of friendship that transcend borders. SIMCC organizes:
SASMO – Singapore and Asian Schools Math Olympiad
SIMOC – Singapore International Math Olympiad Challenge (global finals)
IJMO – International Junior Mathematics Olympiad (global finals)
SINGA – Singapore Math global finals competition (global team finals)
AMO – American Mathematics Olympiad (AMO) in the ASEAN and Greater China regions
VANDA – International Science competition
JOAQUIM, Global finals Science competition
AJMC – Asia Junior Memory Championship
BEBRAS – Singapore Bebras Computational Thinking Challenge
SMKC – Singapore Math Kangaroo Contest
Activities
Math Olympiad, Math Enrichment, Science Olympiad, Memory Champion Workshop,
Memory Champion Gyms, training in our learning centre,
Math Events in Schools
Develop advanced math curriculum and logical deductive games
Singapore schools and franchise overseas
Bring students to International academic contests around the world
Through Singapore Scholastic Trust Teachers' Institute (SSTTI)- offer training and certification for teachers in Singapore Math, Math Olympiad, Science Olympiad, Science, Computational Thinking, Memory Enhancement and Pedagogy by accomplished teachers and professors.
Through International Junior Honor Society (IJHS) – induct top students for FREE into IJHS
Through Young Achievers' Leadership Academy (YALA) – train IJHS scholarship holders and other honor students on leadership
Website: www.simcc.org