Global Olympiads Academy team is on the look out for best learning resources available on the web form the children.
Some of our recommendations are

Art of Problem Solving (AOPS) Online
Recommended by International Mathematical Olympiad Body ( https://www.imo-official.org/) as their official learning partner, AOPS in the USA is definitely one of the most reputed and trusted bodies in the field of Mathematical education before college. Excerpt from their website:
We Live and Breathe Mathematics
Since 1993, AoPS has helped hundreds of thousands of passionate students succeed in the classroom and beyond. We know that learning math means more than memorizing formulas or doing lots of simple calculations quickly. Students deserve teachers and peers who share their enthusiasm and a curriculum that helps them think critically and understand concepts on a deeper level. AoPS provides the opportunity to learn to solve problems by trying, failing, and ultimately succeeding.
AOPS Online: AOPS Online is the online version of AOPS website. AoPS Online offers educational resources for motivated students in grades 5–12. With their books, classes and other free online resources, students develop the skills they need to become successful, creative problem solvers.
We recommend that students and teachers use the following tools in their FREE resources section:
Alcumus, Mathscount Trainer and Free Videos.

Khan Academy (Online)
A personalized learning resource for all ages
Khan Academy offers practice exercises, instructional videos, and a personalized learning dashboard that empower learners to study at their own pace in and outside of the classroom. We tackle math, science, computer programming, history, art history, economics, and more. Our math missions guide learners from kindergarten to calculus using state-of-the-art, adaptive technology that identifies strengths and learning gaps. We've also partnered with institutions like NASA, The Museum of Modern Art, The California Academy of Sciences, and MIT to offer specialized content.
Free tools for parents and teachers
We're working hard to ensure that Khan Academy empowers coaches of all kinds to better understand what their children or students are up to and how best to help them. See at a glance whether a child or student is struggling or if she hit a streak and is now far ahead of the class. Our teacher dashboard provides a summary of class performance as a whole as well as detailed student profiles.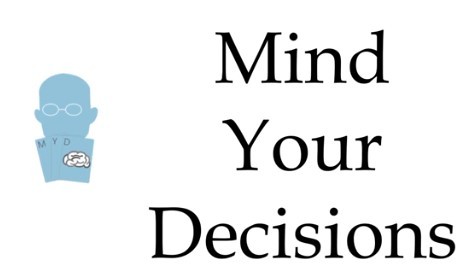 Mind Your Decisions (Youtube Channel)
Brain teasers, Riddles, Logic Puzzles, Viral Math Problems and Math Topics
from Viewers around the world.
We at GOA strongly recommend this channel.

IXL
We highly recommend this website for practicing the routine questions after learning a concept. A very comprehensive technology enabled practice portal and gives detailed analysis of the child's progress.
"At IXL Learning, we are passionate about creating and supporting the best educational technology possible. We develop groundbreaking products used by millions of learners, from children to adults. People count on us to make learning as effective as it can be, and we are deeply committed to solving the real-world challenges faced by students and teachers around the planet."
GOA recommends this paid subscription based website for students for regular practice of concepts they learn before trying more difficult Qs which require problem solving.

Singapore Math Source
Singapore Math Resource is great website based out of the United States where two passionate educators Cassandra Turner and Beth Curran have put together a repository of resources for learning and teaching Singapore Math. What is Singapore Math? There is nothing Singaporean about Singapore Math but it is way of teaching Mathematics fundamentals to primary kids in a way which is more effective for deeper understanding and retention. The approach is called CPA approach where kindergarten age-group students are introduced to Math with the use of concrete ( C ) objects first as models for counting, shapes etc. Then the relational aspects (application) of Mathematics and numbers with real life situations (word problems etc.) are taught using Pictorial (P) or Visual methods like the famous Singapore Math Bar Model and finally primary students are graduated to learn advanced school level concepts like Algebra etc. which is the Abstract (A) way of handling Math, expressions and equations. This gradual transition of teaching and learning way from Concrete (C) to Pictorial to Abstract is very smooth and more apt for kids interest and understanding.
This website is about understanding what is Singapore Math? How it is different and how it can help children develop better critical thinking skills. This website has got various resources related to Singapore Math can be very useful for parents and teachers who want to explore the Singapore Way of teaching Math specially to Primary Kids.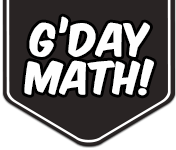 G'Day Math
About G'Day Math!
James Tanton
Believing that mathematics really is accessible to all, James Tanton (PhD, Mathematics, Princeton 1994) is committed to sharing the delight and the beauty of the subject. In 2004 James founded the St. Mark's Institute of Mathematics, an outreach program promoting joyful and effective mathematics education. He worked as a full-time high school teacher at St. Mark's School in Southborough MA,(2004-2012) while conducting mathematics graduate courses for teachers. He continues to give professional development workshops across the nation and Canada.
James recently relocated to Washington D.C. and is currently a visiting scholar of the Mathematical Association of America. He also conducts the professional development program for Math For America program in D.C.
James is the author of SOLVE THIS: MATH ACTIVITIES FOR STUDENTS AND CLUBS (MAA, 2001), THE ENCYCLOPEDIA OF MATHEMATICS (Facts on File, 2005), MATHEMATICS GALORE! (MAA, 2012) and twelve self-published texts. He is the 2005 recipient of the Beckenbach Book Prize, the 2006 recipient of the Kidder Faculty Prize at St. Mark's School, and a 2010 recipient of a Raytheon Math Hero Award for excellence in school teaching.
He also publishes research and expository articles, and through his extracurricular
research classes for students has helped high school students pursue research projects and also publish their results.
Subscribe to his Youtube Channel for some exciting concepts:
An Effective Approach to Mathematics
James Tanton believes that the ultimate goal of the mathematics curriculum is to teach self-reliant thinking, critical questioning and the confidence to synthesize ideas and to re-evaluate them. The content of any curriculum, of course, is important but the path through it should be uncluttered. We want to promote thinking and joyous doing, conceptual understanding over rote practice and memorization. Our complex society demands of its next generation not only mastery of quantitative skills, but also the confidence to ask new questions, explore, wonder, flail, innovate and succeed.
For well over a decade Tanton has helped educators and students find joyful personal understanding of mathematical concepts. By locking into the simplicity of seemingly complex ideas, we can teach ourselves joyful intellectual agility, the confidence and ease to rely on one's wits to "nut things out " and find lasting success. (And still master all those mandated state and national tests!)
Check out the Free Courses on Mathematical thinking concepts like:
Exploding Dots
Fractions are Hard!
Permutations and Combinations
Quadratics
The Astounding power of Area
Keep visiting this section or Bookmark it for new and interesting learning resources.